Commercial Pool Renovation
Commercial Pool and Spa Specialists

Contractor License C53 #789006

Commercial Pool Renovation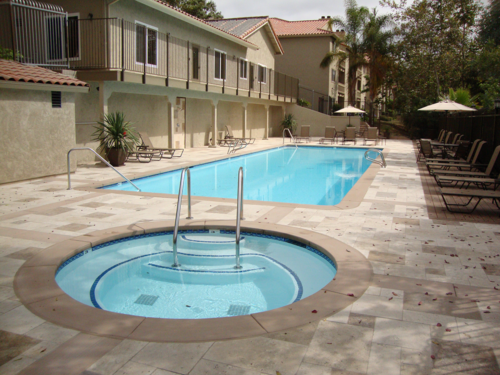 Aquaspecs has the expertise and knowledge of commercial codes, compliances and safety needed for the renovation or restoration of your commercial pool or spa. Our satisfied commercial client list includes Home Owners Associations, Health Clubs, Hotels, Community or Municipal Pools and many more.
We offer the highest quality renovations of your commercial pool and spa, with a focus on safety and compliance. Our improvements are guaranteed and repairs comply with the most up-to-date health codes, while also ensuring the improvements are energy efficient, long lasting and save you money.
Aquaspecs is unique in that we are able to offer many surfacing options on the renovation of your pool and spa. We offer aggregate surfaces such as plaster quartz, exposed pebble and more. We also feature a specially formulated proprietary fiberglass surfacing material which provides you with a high performance, long lasting result.
We only work with top quality, trusted vendors to provide the necessary decking, fencing, electrical, and plumbing services needed to complete the pool's restoration.
Perimeter Pool & Spa Coping
We provide cantilevered concrete coping, manufactured coping, custom coping, bull nose, and safety grip coping, which meets specific code compliance for thickness 2.5" or thinner.
Coping used in commercial applications is made of pre-cast cement or natural stone. For existing pools, it's important to look for cracked or loose coping as this is not only a needed repair issue but also a potential safety hazard. A loose coping stone could cause a bather to trip or fall and become injured, exposing you to liability.
When inspecting the coping, check the adjacent tiles. Most often, when coping is cracked or loose and needing repair, or replacement, the surrounding tile is damaged needing replacement to avoid leaking.
You can experience water loss and further damage to the surrounding area leading to a costly future repair. If you suspect an issue with your pool's coping, contact us today. We can inspect the coping and replace or reset the coping as needed.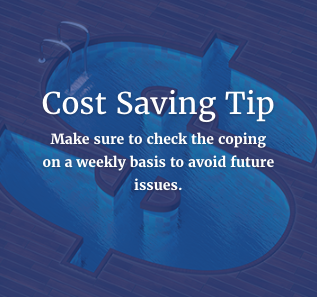 Commercial Pool & Spa Tile
Tile is an important component for a commercial pool and spa, and there are different tiles for various reasons; aesthetic accent, safety and functionality aspects. For instance, swimming pools and spas have waterline tiles that accent the surface of the water, but these tiles accumulate oils, lotion and scum from water surface. Because of this issue, it's important to choose a tile for the waterline that is non-porous and stain resistant.
Step trim tiles offer a pleasing look and marks the edge of the seats and steps. These tiles need to be unglazed to provide slip resistance and meet code. Cracked or chipped tiles can also be sharp, which could cause injury to bathers, so tiles should be inspected often as this can indicate a larger repair issue.
We offer the following tile for your commercial pool and spa:
Perimeter waterline tile
Waterline depth marker tiles
Step and seat trim tile
Swimming lane tile and targets
Depth transition or break line tile
Deck depth markers and no diving markers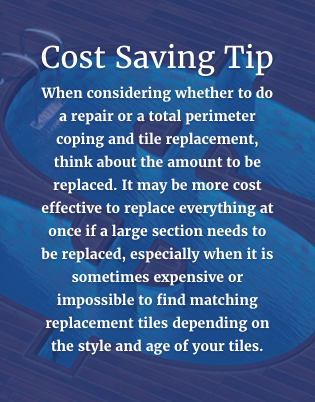 Ask the Experts
Our tile experts can inspect your perimeter coping and tile and make cost saving suggestions so you get a great finished product you can be proud of.
Permacote Pool & Spa Fiberglass Surfacing System
With a new Permacote® surface, old pools quickly become an asset and add value to any property. Permacote® Fiberglass System, now the premier pool surface in Southern California, can be applied to most swimming pool substrates, such as; plaster, steel, vermiculite, gunite, etc. After years of successful resurfacing, the installation has been refined to a process which is quick and clean, although specific preparation procedures will vary from pool to pool.
The Permacote® Fiberglass System is so advanced that every Permacote® pool comes with a Limited 10 Year Warranty. This fiberglass system has displaced the more traditional plaster applications and offers unmatched beauty and durability. It has also become the material of choice by major municipalities, hotels, contractors, and homeowners wishing to renew and revitalize a swimming pool or spa.
Permacote® Fiberglass System, through its unique trade mark formula, provides for lower maintenance demands, longevity against the rigors of chemicals, and a high resistance to staining – creating an attractive and strong surface for your pool.
Plaster and Aggregate Surfacing Options
Plaster is another surfacing material offered by Aquaspecs.  It is an economical solution, but it has its limitations.  Unlike fiberglass, plaster will react with pool water over the course of its lifetime, so more chemicals may be necessary to maintain proper water chemistry.  It is also sensitive to staining, so special attention must be paid in maintenance.
One of the ways to improve a plaster surface and make it longer-lasting is by adding a more durable aggregate, such as quartz or pebbles.  Quartz aggregate is more stain-resistant than plaster; when the two are mixed together you get an improved, durable surface that adds true sparkle to your pool water.
Pebble aggregates are an even more durable option and they create a striking look, as well as a river rock-like texture underfoot. Additionally, pebble blends are the most chemical and stain-resistant of all re-surfacing techniques.
We assess the overall condition of your pool surface and work with you to determine which surface will support your scenario, taking into budget, usage, maintenance requirements and aesthetics.
Commercial Pool Decking
You never get a second chance to make a first impression. The pool decking is that first impression, so its importance can't be overstated. The safety, maintenance and the aesthetic of the pool decking are of equal concerns for the property owner or pool manager. Swimming pool decks should be durable and easy to maintain without slip or trip hazards. The surface should be comfortable to bare feet without overheating in the sun.
Concrete is often a preferred decking material around the commercial pool and spa because it provides durability, comfort and safety. Concrete is also very versatile, in that there are many decorative options available.  Textures range from plain broom-finished concrete to imprinted patterns that look like tile, brick or natural stone.  Many color and staining options help further customize the job, and stenciled or imprinted borders can be added for even more appeal.
Concrete Deck Coatings
If you want your deck to have the look of flagstone, granite or terrazzo but don't want to deal with the price and maintenance, the Aquadek Polymer Cement Surface System is your answer. Using today's most advanced epoxies, acrylics and polymer modified cements, this system is the high-tech way to make old, stained or cracked cement look like new.
This system also creates a custom-made coating with these outstanding qualities:
Durable, wax-less beauty
Trouble-free maintenance
Industrial strength coatings impervious to chemicals, including automotive fluids
Heat resistant
Inexpensive installation
All Aquadek Polymer Cement Surface System products are sealed to keep the beauty in and the dirt out, and in most cases, the product is guaranteed for TEN years. This beautiful surface is comfortable to walk on, slip-resistant and much cooler under bare feet than most other surfaces. Our color tint system offers a choice of more than 1,000 designer colors and styles.
Equipment & Plumbing
We offer pool and spa equipment replacement – from high efficiency pumps and motors, salt chlorinating systems, pool and spa heaters (LP, natural and electric), and filter systems to high efficiency pool and spa efficient LED lights, ladders and handrails, skimmers, main drains and jets to name a few. We also offer the best prices on installation.
Whether you need repair or renovation, Aquaspecs has the expertise and knowledge of commercial codes, compliance and safety needed for the renovation or restoration of your commercial pool or spa.
Ccontact us today to talk about how we can help you!
OUR RECENT WORK
Have questions about your spa or pool?

Aquaspecs
Pool & Spa Specialists
619 741 9104
aquaspecs@ymail.com
Serving all of San Diego County
Aquaspec links
View Our Recent Work